I really like fashion, which makes it quite logical why i attend fashion/art school. I learn the origins of trends, how to spot new ones and how to be a stylist. Personally, that whole little world doesn't appeal to me at all. The people connected to it seem awful. Although i really adore people such as Marc Jacobs, John Galliano and Vivienne Westwood. My faaavorite label right now is Luella. I love their girly look. Here are some examples:
I love how it's quite overly girly.
Luella drawing, this is just the best thing ever.
... and another one.
I just love this so much. If only i could afford any of here pieces..
There are a couple of people who, when it comes to style, inspire me. First of all, there is Francoise Hardy. To me she is one of the most stylish women of all time. Back in the 60's when she was younger, she used to dress so elegantly, yet simple. She made me love marine stripes and leggings, and ofcourse her bangs and long hair.
Man, i could post like a zillion more pictures of her. I'm not intending to make this a fashionblog, but since it's quite a big part of my life i felt i had to mention it sometime.
There are some more who i need to mention as my style inspirations.
Alexa Chung:
A new style inspiration of mine. I don't know how and where i came across her, but i just loved her style the first moment i saw it. It seems so effortless. It's not very original to like her style, but i still do. I found out a couple of pieces she owns are also a part of my own closet, I can relate to alot of what she wears. Her outfits seem to have been very easy put together, yet i wouldn't have come up with it myself. At least, some of them.
Her style is known for mixing highstreet with designer.
Some examples: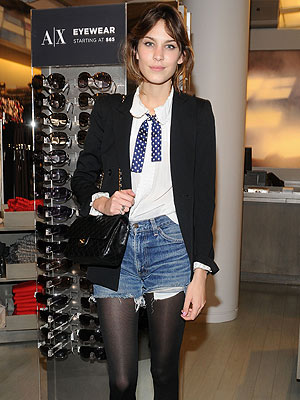 I would wear every single thing of this. Although i don't think i could pull everything off.
And then there are Chloe Sevigny and Lou Doillon.
They both dress so greatly. I love Lou Doillon with her hats, her red lips and her great dresses and shoes. And it looks, just like with Alexa Chung, so effortless. I don't think it actually is, but i like the look of like 'grabbing something out of the closet and out i go'. Me myself, i like dressing up but not too much. I hate when i look overly dressed up, i feel like a giant twat when i do. So I don't.
Lou Doillon:
Greatgreatgreat. I think if she'd wear a garbage bag she would still look amazing. What do you want with genes like that, a mother called Jane Birkin and a sister called Charlotte Gainsbourg.
And last but not least, Chloe Sevigny. What can i say.. she's just an amazing dresser.
There are alot more inspirational people, stylewise. Like Audrey Hepburn.